Paris Trip – Day Two
Forgotten Soldiers
The first morning in Paris was a beautiful experience. After a very late night of pizza fuelled research, waking up to the serene view of sunshine filling the room was a warm welcome. Jen and I were both giddy with excitement for the long day that was ahead of us so it did not take us long to get ready. We were soon joined by David and decided to scour the streets of France for food. We found a nice, quaint cafe shop in the corner that sold beautiful chocolate croissants and other similar delicious goodies. I really wish I had more money! I would have brought every single thing in that shop if I could!
Unfortunately, I had to settle with just one croissant. Our next mission was to find some coffee to wake us up. We got coffee in the hotel cafeteria where we also met up with Adil. We had about an hour before we had to set off to Normandy where a big journey awaited us. Quickly chucking down the food and getting ourselves organised we managed to pile in the car. With me squashed in the back...well, the suitcases were there to keep me company, at least.
The trip to Normandy in the car flew faster than I thought it would. It may be because I was busy making sure all our facts were in order. The crew in the car were on high alert. Before we reached our first destination, we spotted old war tanks and other weapon displays outside a large building. Pausing in our trip, we decided to look into this further. What we discovered was a private war museum display. Adil decided that this was an opportunity that should not slip through our fingers like sand. He paid for me to go in with a camera and try to shoot as many shots as possible for the document. The museum felt like I took a step back in time, with numerous displays of guns and other war equipment all over the place. Mannequins of soldiers were placed around the area. Old music from 19's played repeated through the speakers giving a chilling atmosphere and posters adorned the wall.
While I was busy with that, David decided this was a perfect opportunity for a test flight. He unpacked the new drone that the company brought and set it into action. With careful precision, David managed to get great shot of the museum from the outside. Having spent only half an hour in the museum, the materiel we discovered was amazing.
15 minutes after we got back in the car, we arrived at our first destination 'Point Du Hoc'. This was a large cliff overlooking the Omaha beaches which was where the Americans first arrived on the shores of Normandy. The Germans would have overtaken this cliff as it was a perfect view of the beach and where they could pick off the Americans. The historical background of Point Du Hoc was amazing as all of it was written down on a big brown plaque for everyone to read at the entrance of the area. There were large holes all across the cliff which was actually the aftermath of multiple bombings.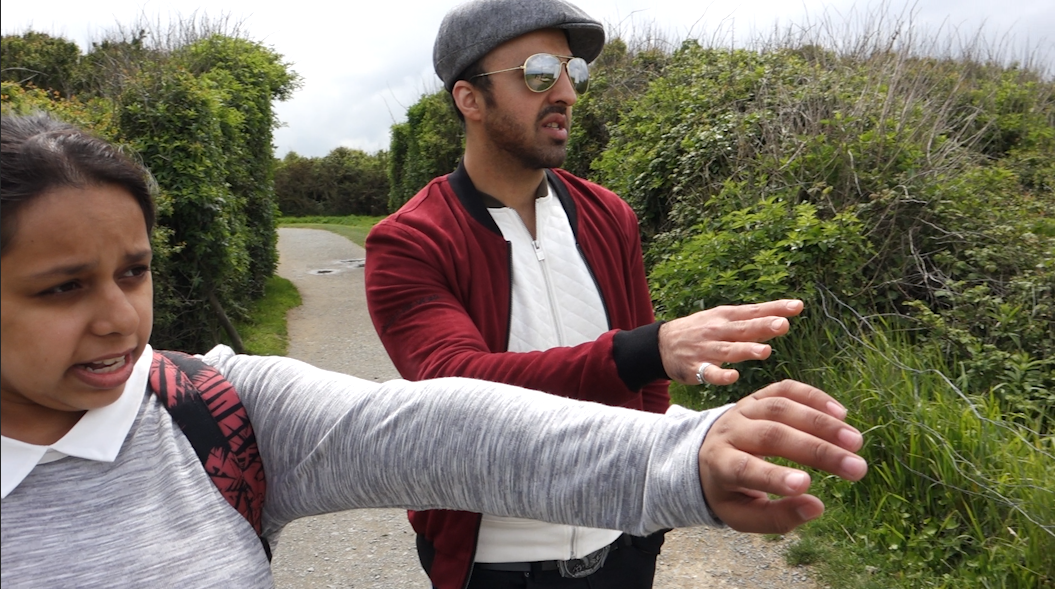 After exploring the area, it was half an hour drive to our next destination. The American Cemetery. It was here where we discovered our first disappointment. The Muslim graves we were looking forward to seeing were actually not at the gravesite but in another location that was two hours away. This dampened our moods as the whole reason we had come to Paris was to find out more about Muslim soldiers only to discover that we may not even be able to see a single grave of these heroes and pay our respects to them. However as the old saying goes, where there is darkness there is also light. While at the cemetery we met a British veterinarian who we had a lengthy conversation with about his time in WW2. The stories we heard was fascination as it really did give us an insight to the war and how people were during that crucial period in history.
Our next stop was the Bayeux Cemetery which was actually a British cemetery. Before entering, we went to the Bayeux museum which was part of the cemetery first. We headed for the help desk first for information, but lack of communication and barrier of language came in our way. But, we did manage to discover that there were no Muslim graves so when we did enter the cemetery we were all disheartened. What was the point of our journey to Paris for if we couldn't even come across one grave that acknowledges a Muslim war hero?
However, to our biggest surprise and astonishment, while we were wondering around the cemetery we came across two Muslim graves. It was here where a sense of accomplishment came. This is why we came to Paris. We came to see the impact Muslim soldiers had in the war. It was great to see this acknowledgment made. Adil prayed for the soldier's lives that were lost and we spent time recording this key aspect for the documentary. The weather was freezing and it did look like it was going to pour cats and dogs on our heads. Yet, we managed to take the drone and film a few great air shots before the rain caught us.
Finding the graves really did lift everyone's spirits. The car ride back to the hotel was filled with joy and amazement. And…. also a stop to McDonalds. It had been a very long day.